Peace of mind for all
Voice-Care is a ground-breaking solution developed specifically for the healthcare sector, designed to progressively transform patient safety and care.

Find out more...
The personal interaction between a patient, their family and medical teams is essential to ensure optimal patient outcomes.
It can also be the difference between uncertainty and peace of mind for all.
Designed to keep patient safety and care at the forefront of any hospital stay, Voice-Care gives healthcare professionals the tools they need to nurture and enhance the patient relationship, whilst at the same time optimising processes and streamlining productivity within busy clinical environments.
How does it work?
With the ability to achieve greater staff satisfaction, increase safety and ensure 100% compliance with standardised processes and procedures, Voice-Care prioritises and manages the administration of medicines and patient observations through the use of Voice-Directed Technology.
Voice-Care provides caregivers with the steps required to care for their patients, giving verbal instructions through a headset, then prompting the caregiver to speak and record their observations through the headset or via an intuitive interactive app.
Uses in Hospital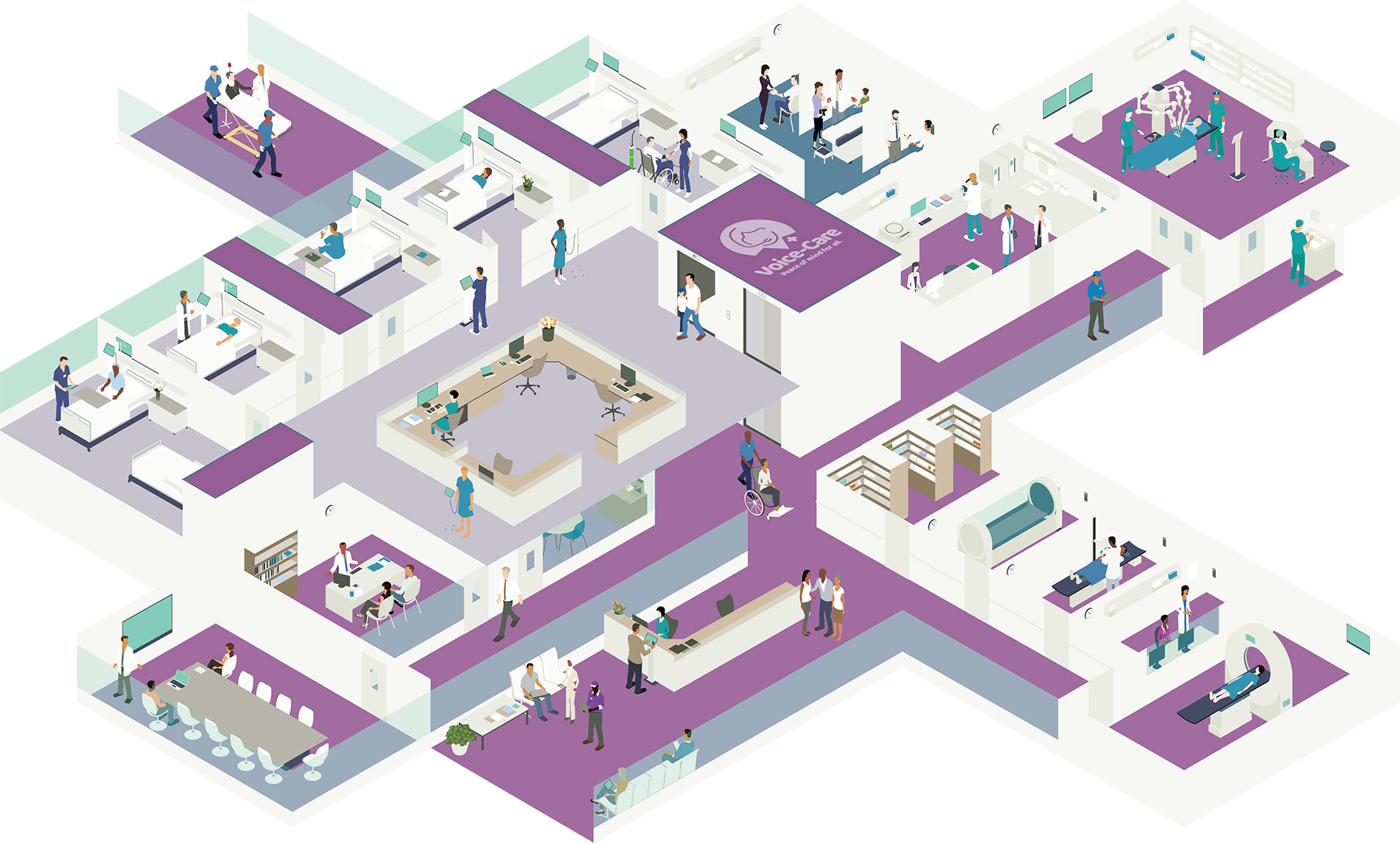 Triage
Bedside Care
IVF
Hospital Discharge
Asset / Machinery Inspection
Medication Administration
Theatre (WHO Compliance)
Maternity
New Hospitals with a Digital Initiative
Estates Inspection
Voice-Care can be used for a variety of healthcare processes, including:
The assessment and documentation of vital recordings such as blood pressure, temperature and National Early Warning Signs (NEWS)
The real-time recording of anecdotal observations and patient dialogue directly to the ePR or NEWS2 platform
The logging of treatments and medicines administered in real-time, with each interaction assigned to a particular caregiver
The timely and accurate administration of patient check-in and check-out procedures
The recording of notes within the assigned information boxes on the app or via free speech through the headset
The ability to upload photographs to record treatments given or to document the wound healing process
Supporting integration with existing hospital systems, the solution can also be reconfigured and developed to suit the demands of other healthcare applications wherever there needs to be compliant inspections or a patient/carer scenario.
Benefits
The benefits of Voice-Care are far-reaching for both patients, their families and medical teams alike.
Patient-Centred Care
The utilisation of a 'hands-free, eyes-free' solution ensures that caregivers can maintain eye contact with the patient, enabling more personalised engagement levels, without the caregiver having to refer to paper notes or documents.
Higher Quality Observations
Speaking data out loud and hearing instructions one step at a time helps the caregiver think twice about what they are recording, ensuring thoughtful and highly accurate observations, the proper administration of medication and more focus throughout standardised processes, ensuring 100% compliance.
Real-time Recording of Information
Information taken from the observation is uploaded to the ePR in real time, giving a precise record of the actions taken, when and by whom. The solution also enables caregivers to take photos and livestream 'how to' videos.
Simplification of Shift Changeovers
The instant upload of information ensures the smooth transfer of information to the ePR, meaning that patient updates are instantly available to staff, making shift changeovers faster, simpler and more accurate.
More Productivity, More Impact
Staff can get started quickly, thanks to a simple 15 minute voice system training session, without the need for caregivers to learn complex computer codes. Voice-Care captures medical personnel's accuracy and productivity levels in real time and displays progress on dashboards that are easy to read, enabling improvements to be made where needed. Voice-Care also directs caregivers through the most optimum route around their various patients and wards, helping them to be more efficient, streamlined and productive.
Protects Those Who Protect Others
Voice-Care gives medical staff confidence amid difficult situations that their step-by-step, time-stamped observations provide them with accountability, transparency and protection. Voice-Care mitigates potential errors from illegible writing, unrecorded patient observations and forgetting to share updates with other members of the care team.
Reduction of Carbon Footprint
Voice-Care helps Trusts to reduce their carbon footprint by dramatically reducing their paper usage, helping them to care for the environment as well as their patients.
Taking Care of Loved Ones Too

Rather than phoning into a busy hospital floor and getting a rushed and limited answer, family members can download the Voice-Care app at home and receive real-time updates on when their loved one was last seen, who saw them, what medicines were administered and receive information that helps bring peace of mind to all.

/* LAINGBUISSON NEWS HERE */ ?>
September 2023 update

Voice-Care Named as Finalist in the 'Innovation in Health Tech' Category in the LaingBuisson Awards 2023

/* HTD NEWS HERE */ ?>

'Best Healthcare Management Solution' winner in the Health Tech Digital Awards 2023

Delivering a suite of voice-enabled ground-breaking applications and solutions specifically designed to progressively transform patient safety and care.
/* LYDIA NEWS HERE */ ?> /* ZEBRA NEWS HERE */ ?>

January 2023 update

Voice-Care International Ltd Joins Zebra Technologies' PartnerConnect Programme

Voice-Care Videos
Voice-Care User Interface & Features
Q&A Session with Nurses at the Centre of Excellence for Health & Innovation
Patient Observations - A Voice-Care vs Paper Time & Motion Study with Productivity Gains of 30-72%
Voice-Care vs PDA - Patient Observations Time & Motion Study with Productivity Gains of 16-24%
HSJ Digital Transformation Summit 2022 - Partner Highlights
HSJ Digital Transformation Summit 2022 - Main Highlights
The Voice-Care App
An accompanying Voice-Care secure mobile phone app ensures that next of kin with the correct security settings have real-time access to patient updates and progress, reducing the pressure on front-line staff to handle inbound phone calls from concerned relatives which ultimately takes them away from carrying out important tasks and care plans.
Keeping patient care at the heart of everything they do.
Working with the Centre for Health Innovation
Voice-Care has joined forces with Staffordshire University's £5.8m Centre for Health Innovation; a collaboration which is centred around simulation-based product testing, product development, research and development, data capture and focus groups.
Download our brochure
To find out how you can progressively transform patient safety and care, please download our latest brochure. If you have any questions, or would like to speak to the team, please do get in touch.
Download the Voice-Care Brochure
Try Voice-Care for yourself
If you would like to see Voice-Care in action and see how it could fit seamlessly into your hospital or care environment, why not book a place on one of our open day events at our Specialist Innovation Centre?
Or if you'd prefer, call our team on 0161 776 4009 or email us at info@voice-care.com
(By completing the form above, you are giving us permission to contact you using the information provided. For more details, please read our Privacy & Cookies information.)